Award Winning Garlic Sausage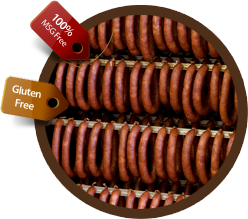 Our Family Recipe
From the beginning we have dedicated ourselves to making the very finest quality kobassa (garlic sausage) and deli meat specialties.
Available in:
Coarse-Ground Kobassa
Fine-Ground Kobassa
Our kobassa recipe has been passed down through the generations. We use time honoured craftsmanship, such as hand cutting and trimming our meat.
Our computerized wood-burning smokehouses are "state of the art". The majority of the products we sell are made in-house.
Tenderloin Meat & Sausage is proud to carry on a family tradition of producing its award winning kobassa (garlic sausage).
Additional Details:
Award Winning Recipe
Available in Coarse-Ground or Fine-Ground Kobassa
No MSG
Gluten Free
Soy Free
Lactose Free