Lunch Meat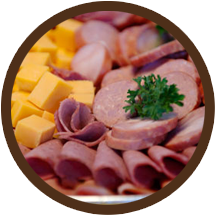 Our Selection of Store Made Lunch Meats
Our cold cuts are of the highest quality. They contain no fillers and are smoked in store.
MSG Free. Gluten Free. Soy Free.
Lunch Meat:
Veal Onion Loaf
Jalapeno Cheddar Loaf
Kuba Loaf
Pork and Beef Salami
All Beef Salami
Ham Sausage
Mild Pizza Pepperoni
Hot Pizza Pepperoni
Spiced Ham
Kuba Sausage
Corned Beef
Montreal Corned Beef Brisket
Roast Beef
Pastrami
Cooked Ham
Old Fashion Ham
Black Forest Ham
Back Bacon
Side Bacon
Pork and Beef Bologna
Head Cheese
Smoked Turkey
…and more!